Technical Assistance Team
---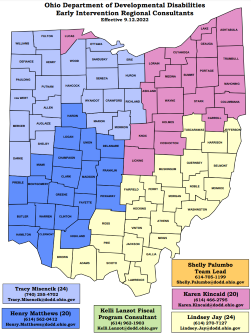 EI Program Manager
Diane Fox
Phone: (614) 466-2755
Email: Diane.Fox@dodd.ohio.gov
Diane J. Fox is the Assistant Deputy Director of Early Childhood Initiatives at the Ohio Department of Developmental Disabilities (DODD)). Prior to this appointment, she served as the Program Manager for Ohio Early Intervention. She provides leadership and guidance to support early childhood initiatives. She participates on numerous cross-agency workgroups designed to improve access to services for all families with young children. Currently, Diane oversees the Early Intervention grant program, technical assistance, evaluation activities, and public-private partnerships related to early childhood, and strongly supports implementation of evidence-based early intervention practices.  Diane holds a master's degree in Special Education from West Virginia University with a focus in early intervention. She is a licensed Social Worker through the State of Ohio Counselor, Social Work, and Marriage and Family Therapist Board and holds a professional certification from DODD as an EI Specialist, and a Certified and active Fidelity Coach. She has over 25 years of experience working in the field of health, human services, and early intervention.
---
Lindsey Jay
Phone: (614) 270-7127
Email: lindsey.jay@dodd.ohio.gov
Lindsey obtained her Bachelor's degree in Special Education from The Ohio State University. She holds a Master's degree in Early Childhood Special Education from Xavier University. Lindsey found her passion in working in this field over 20 years ago in high school, while working as a respite provider in homes with classmates who had different abilities. Throughout her college experience, Lindsey found her love for Early Intervention when working for JumpStart, serving young underprivileged children in urban communities in their homes and daycare settings. Lindsey graduated and started in a classroom at the county board as an Intervention Specialist (moderate to intensive). A year later she landed in Early Intervention and has never looked back. Lindsey was in homes as a developmental specialist and primary service provider in Ohio for 15 years supporting children and their families. She has her credentials with DODD as an EI Specialist. Lindsey is bringing both her professional and personal experience as a parent to children who were in Early Intervention, to the state team and is thrilled to be supporting Ohio's Early Intervention programs.
Karen Kincaid
Phone: (614) 466-2795
Email: Karen.Kincaid@dodd.ohio.gov
Karen Kincaid has a Bachelor's in Child and Family Development from the University of Akron and is a Licensed Social Worker in the state of Ohio.  She is credentialed through the Ohio Department of Developmental Disabilities as a Developmental Specialist and is a Certified PLAY Project Consultant.  Karen has 17 years of experience working in the field of Early Intervention.  Prior to working in Early Intervention, she worked as a Service Coordinator for Help Me Grow and in the field of child welfare. 
Allan Kisner
Phone: (614) 202-2705
Email: allan.kisner@dodd.ohio.gov
Allan obtained his Bachelor of Arts degree from Ohio University with a double major in Spanish and Latin American Studies and a focus in Political Science. He previously worked for 2.5 years providing direct care services through the Department of Mental Health and Addiction Services and then worked for 7.5 years as an Unemployment Adjudicator with the Ohio Department of Job and Family Services. He provides support for the Early Intervention Team and its various projects/initiatives.
Kelli Lanzot
Phone: (614) 466-4077
Email: Kelli.Lanzot@dodd.ohio.gov
Kelli Lanzot, MS, LSW is the Fiscal Consultant for Ohio's EI System. Kelli has been working in the field of early intervention for eleven years. Prior to working in early intervention Kelli worked in the field of child welfare. Kelli also has experience in the fields of mental health, substance abuse, and case management. Kelli attended Ohio Dominican University where she graduated with a Bachelor's degree in Sociology and Social Worker. In addition, Kelli has a Master's Degree in Human Services Management. Kelli is also a certified Developmental Specialist for the Department of Developmental Disabilities.
Tiffany Madden
Phone: (513) 735-8271
Email: Tiffany.Madden@dodd.ohio.gov
Tiffany holds a Master's degree in Speech-Language Pathology from the University of Cincinnati. She has a license in Speech-Language Pathology through the state of Ohio and has earned a Certificate of Clinical Competence from the American Speech Language Hearing Association (ASHA). Over the past 13 years, Tiffany has served as a Speech-Language Pathologist, Primary Service Provider, and supervisor in early intervention programs within the states of Maryland and Ohio. As an Early Intervention Supervisor, she provided ongoing support and training related to evidence-based practices in EI. Tiffany has also taught Hanen, It Takes Two To Talk workshops to parents of toddlers with language delays.
Henry Matthews
Phone: (614) 728-2729
Email: Henry.Matthews@dodd.ohio.gov
Henry Matthews has a Master's degree in Early Childhood Development and Special Education from the University of Virginia. He spent five years working as a developmental specialist in Virginia. Henry has experience working both in the urban area of Norfolk and in rural counties near the Virginia/West Virginia border. Born and raised in Hilliard, Ohio, he feels fortunate to have the opportunity to return to work in Ohio's EI system.
Tracy Millhon
Email: tracy.millhon@dodd.ohio.gov
Tracy Millhon has a Bachelor's degree in Child and Family Studies from Ohio University. She has been an Early Intervention Service Coordinator across Ohio including Franklin, Guernsey, Miami, and Licking Counties, for the past 11 years. Tracy has prior experience working in community mental health and public education, as well as working with pregnant and parenting teens in Franklin County. Tracy is credentialed by DODD as both a Service Coordinator Supervisor and a Developmental Specialist.
Shelly Palumbo
Phone: (614) 705-1199
Email: Shelly.Palumbo@dodd.ohio.gov
Shelly Palumbo is the Supervisor for the Early Intervention Consultants; she has a Bachelor's in Social Work from Capital University and is a Licensed Social Worker in the state of Ohio. Shelly has worked as an Early Intervention Consultant at the Department of Developmental Disabilities for 6 years. Shelly has maintained her Fidelity Coach Certification from FIPP. Previously, she was employed at the Ohio Department of Health as a Human S Services Program Consultant for the Help Me Grow Home Visiting Program for 3.5 years. Shelly has 19 years' experience working within the Help Me Grow Program as a Service Coordinator, Home Visitor, and as a state consultant. Shelly has 28 years of experience working in the field of Social Work, with 17 years spent supporting individuals and families in their homes.
---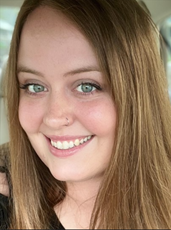 EI Training Coordinator
Anni Monks
Phone: (614) 644-0262
Email: Anni.Monks@dodd.ohio.gov
Anni graduated from Ohio University with a Bachelor of Arts degree in Psychology and a minor in English. Anni has spent nine years in the field of education, training, and initiative facilitation, including outdoor education, team building, cognitive-behavioral therapy, and professional development. For four years, Anni worked in community-based correctional facilities, delivering evidence-based curricula to residents. Anni has education and work experience in the areas of trauma-informed care, motivational interviewing, cognitive-behavioral therapy, substance use, and mental health.
---