Service Coordinator
---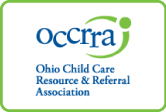 Service Coordinator I, II, III, and Supervisor
Service Coordinators in Ohio are credentialed through the Ohio Professional Registry (OPR), which is maintained by OCCRRA (the Ohio Child Care Resource and Referral Association).
Click here for instructions on creating and maintaining an OPR account. Questions may be directed to the OPR, credential@occrra.org
Note: For the Service Coordinator III credential, one of the requirements is completion of the Service Coordinator Skills Inventory. Click here to access the Skills Inventory.
Training requirements for Service Coordinator and Service Coordination Supervisor credentials.